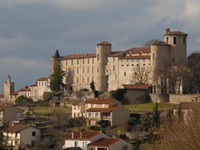 The site
Saint Lizier is a medieval village built at the top of a rocky hill overlooking the Salat river.
The site has been inhabited for millenaries: celts, romans.
Apart from the charming views of the Pyrenees in the background, Saint Lizier's heritage is remarkable: a roman cathedral and its cloister, cobbled lanes leading to the former impressive Bishops' Palace with its own cathedral displaying a rare series of frescoes recently discovered.
It's an oasis of calm next to all the facilities of Saint Girons the nearby town: shops and entertainment and the famous colourful saturday market.